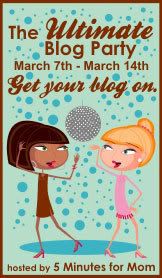 I can't believe it's that time again! In fact, I almost missed it! The Ultimate Blog Party 2008!!
I do believe that I met most of my regular readers at last year's party. Wasn't it fun!!
Anyhoo. For anyone visiting for the first time, WELCOME! My name is Guinevere Meadow. I have a wonderful Hubby and an adorable 15-month old baby boy I like to call Lance. Currently, I stay at home with him, but I have plans to return to school this fall and finish my degree in elementary education.

I am short with brown hair, and I like strawberry banana smoothies. I sing in a band at my church and Hubby plays guitar. I was a big dork in high school, but I earned myself a full-ride scholarship with the grades I earned because I didn't waste my time partying with people who are miserable and sad.
I like to cook and to take pictures. I sing whenever I can, whether or not anyone is listening. I like to watch reruns of
Star Trek Voyager
. (I guess I'm still a big dork.)
Now tell me about yourself! I hope we can be friends!